Charity Organization "Charitable Foundation "New University" was created in late September 2022. This is a non-profit charitable organization that operates in accordance with the Constitution of Ukraine, the Law of Ukraine "On Charitable Activities and Charitable Organizations", other legal acts of Ukraine and own Statute.
The main goal of the organization is to provide assistance and support the development of the University in the field of education, science, research and other activities, as well as to create decent conditions for life and work of University academic staff, students and their families.
The areas of charitable activity of the organization are:
education, science and research;
material and technical support;
health care;
culture and art;
sport and physical culture;
human and citizen rights and fundamental freedoms;
social welfare;
development of human capital and professional development.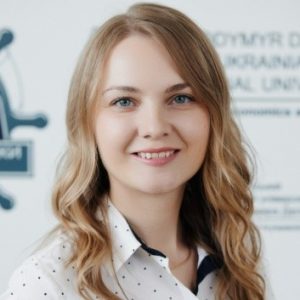 Billous Yana
PhD, Associate Professor of the Department of Public Administration, Management and Marketing
Director of CHARITY ORGANIZATION «CHARITABLE FOUNDATION «NEW UNIVERSITY»
Bank requisites:
Реквізити платежу (Україна)
| | |
| --- | --- |
| Найменування одержувача: | БО БФ НОВИЙ УНІВЕРСИТЕТ |
| Код одержувача: | 44683312 |
| Назва банку: | АТ КБ «ПриватБанк» |
| Рахунок одержувача у форматі IBAN: | UA933052990000026007025021770 |
| Валюта: | UAH |
| Призначення платежу: | Безповоротна фінансова допомога |
Payment details
For depositing funds in foreign currency
EURO
BENEFICIARY (company Name):
CO «CF «NEW UNIVERSITY»
Bank name:
JSC CB "PRIVATBANK", 1D HRUSHEVSKOHO STR., KYIV, 01001, UKRAINE
IBAN (International Banking Account Number):
UA953052990000026008035029772 EUR
Bank SWIFT Code:
PBANUA2X
Company address
8, Simi Khokhlovykh st., Kyiv, Ukraine 01001

Correspondent banks (EURO):
1) Correspondent bank
Commerzbank AG, Frankfurt am Main, Germany
Account in the correspondent bank
400886700401
SWIFT Code of the correspondent bank
COBADEFF
Remittance information:
Non-refundable financial assistance
or
2) Correspondent bank
J.P.MORGAN AG, FRANKFURT AM MAIN, GERMANY
Account in the correspondent bank
6231605145
SWIFT Code of the correspondent bank
CHASDEFX
Remittance information:
Non-refundable financial assistance
US DOLLARS
BENEFICIARY (company Name):
CO «CF «NEW UNIVERSITY»
Bank name:
JSC CB "PRIVATBANK", 1D HRUSHEVSKOHO STR., KYIV, 01001, UKRAINE
IBAN (International Banking Account Number):
UA393052990000026000025025405 USD
Bank SWIFT Code:
PBANUA2X
Company address
8, Simi Khokhlovykh st., Kyiv, Ukraine 01001

Correspondent banks (USD):
1) Correspondent bank
JP Morgan Chase Bank, New York ,USA
Account in the correspondent bank
001-1-000080
SWIFT Code of the correspondent bank
CHASUS33
Remittance information:
Non-refundable financial assistance
or
2) Correspondent bank
The Bank of New York Mellon, New York, USA
Account in the correspondent bank
890-0085-754
SWIFT Code of the correspondent bank
IRVT US 3N
Remittance information:
Non-refundable financial assistance
or
3) Correspondent bank
Citibank N.A., NEW YORK, USA
Account in the correspondent bank
36445343
SWIFT Code of the correspondent bank
CITI US 33
Remittance information:
Non-refundable financial assistance