On March 16, a series of online meetings of Volodymyr Dahl East Ukrainian National University students with representatives of the IT industry, IT Career Talks, started at the Faculty of Information Technology and Electronics.
The purpose of the meetings is to introduce students of the Volodymyr Dahl East Ukrainian National University to the peculiarities of working in the IT industry, demonstrate the diversity of such activities and employment trends, discuss current IT trends, tools, etc.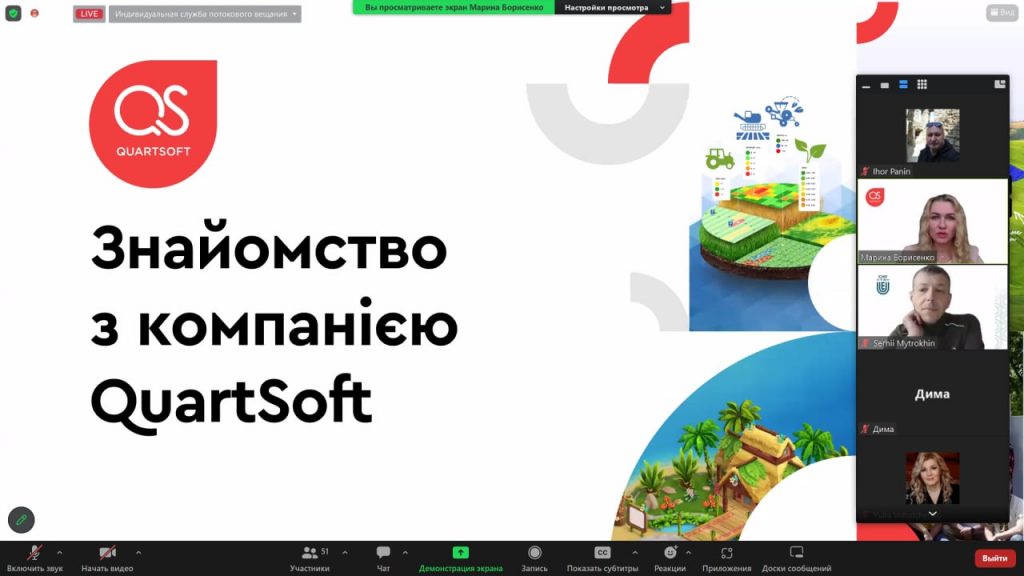 IT Career Talks began with a meeting with employees of QuartSoft Ukraine (200+ specialists, 23+ years of history of international experience and recognition).
The meeting was held on the Zoom platform. Three specialists of the company took the floor in front of the virtual microphone:
▪️ HR Manager Maryna Borysenko, who spoke about the history of long-term development and key areas of QuartSoft's activities
▪️ People Partner Ihnat Varzar, whose speech was aimed at answering the question: "How to find your place in IT?"
▪️ Business Analyst Mykola Slabko, who emphasized the peculiarities of business analysts' work in Ukrainian IT companies.
The atmosphere in the virtual classroom was full of interest and motivation. The audience had the opportunity to ask questions that allowed them to look behind the scenes of one of the most promising areas of activity.
We express our gratitude to the employees of QuartSoft Ukraine, as well as the team of the NGO Anti-Crisis Media Center for organizing the event, broadcasting it on Facebook and open dialogue with examples of real cases that demonstrated the trends and benefits of employment in IT.
Don't switch off! There will be more to come!